As winter comes to a close in the Northwest, the real estate market is gearing up for another busy spring and summer season. Will it be as hot as 2016? What does it mean for buyers and sellers? Let's take a look at some telling trends.
The above graph represents real estate sales in Washington County, Oregon, from December 2015 through February 2017. As you can see, the days on market get shorter in the summer months, meaning sales are moving quicker then — but even in the winter months, 33-40 days on the market is not exactly very long. Things are still moving very quickly.
The top line indicates the average percentage of sale price vs. original list price. This number has been steady, right around 100%. That means for every house that sells below its asking price, others are selling above. This is great news for sellers — if your home is priced correctly, you probably won't be waiting long to get offers, and the market is so competitive that buyers will likely be paying the full asking price, if not more, when you close the deal.
If it's good news for sellers, does that mean bad news for buyers? Not necessarily; but buyers must be aware of the current market conditions to avoid frustration and heartbreak.
The market is moving FAST. That means you need to stay on top of the listings as they come out. As your Realtor, I check the listings at least once daily, and alert you as soon as something new pops up matching your preferences. If you see something online that interests you, you need to move quickly. Many homes receive offers within their first few days on the market. If you're not ready to check out a home as soon as it becomes available for sale, it could go pending before you get a chance to see it. What if you're just not available right away? No problem — I can preview it for you, and communicate with the sellers to let them know you are interested. They may give us some extra time to tour it and get an offer in, or I can write an offer for you before you see it, with everything contingent on your approval once you do get to view the property in person.
When it comes time to make your offer, keep in mind that sales are averaging 99% of the asking price. Many sellers receive multiple offers — I've seen some with over 20! — so you need to be putting your best offer forward. Do not expect to be able to lowball your offers in a market like this. I've had lots of clients say "We'll start low, and see what they counter-offer." But what happens is that the seller doesn't counter-offer at all — they pick from one of the other, better offers they've received. Unless the property you are considering has already been on the market for several weeks, you need to plan for a competitive offer situation. Make your best offer from the start. What is the home worth to you? If you lose the contract to someone who offered more, are you going to wish you'd offered more, too? Offer what you are willing to pay. If we find issues during the inspection or appraisal, we can always negotiate fixes or price reductions then.
It's true that buying real estate in the Portland area has become more expensive and more competitive in the last few years. The trends have been steady for the last two years, and there are currently no indications of any major changes ahead. Savvy buyers with savvy agents can negotiate even the toughest market conditions. The key is simply to stay informed. It's my job to keep you on top of the market conditions and to help you make the best possible real estate deals for you. Contact me today for more information. I look forward to working with you!
Engineers at the University of Maryland have created a process that removes color from wood. The video above shows the process — and what's left after they're done is a transparent wood that is even stronger than natural wood. The researchers have so far only used this process on small pieces of wood in the lab, but they believe that we could be using this clear wood in large building projects within the next five years. Maybe your next home will have windows made of wood!
The material isn't entirely transparent. You can see through it, but it's a little bit grainy. Maybe the research will improve the clarity, or maybe this grainy but clear wood will be perfect for certain building uses. Perhaps you could have the look of a modern glass building, but without the heat and glare inside.
Would you be interested in wooden window panes in your home? I'm curious how we'll see this put to use in construction and design over the next few years!
KGW recently reported that Portland has the fastest-rising home prices in the United States. Check out this graph representing Multnomah County. The line at the top is the average sold-price-to-asking-price percentage, and the bars represent days on the market.
It's incredible! Days on the market — from listing to closing! — is averaging less than a month. And the average sale price — AVERAGE — is above the asking price. Houses in Portland are selling immediately, and they're selling above list price in nearly every case. It's hard not to wonder when this bubble will burst and the market will crash again. This momentum can't last forever, can it?
Well, the pace of growth probably will slow down eventually, but I'm confident this is NOT a bubble, and we're not headed for a crash anytime soon. Here's why:
Buyers are paying cash. Approximately one-quarter of all Portland home sales in 2015 were all-cash offers. When a buyer pays cash, there's no mortgage on which they risk defaulting. The house is paid for and the money is accounted for.
Mortgages are stronger and more secure than they were before the last crash. The last crash in the late 2000's was largely due to irresponsible lending and borrowing. Whether the banks paid fairly for their part in the crisis is up for debate, but they absolutely learned a lesson about making flimsy loans. And just in case they didn't, the government put new restrictions in place to ensure that future mortgages meet higher standards. The result is that it is more difficult to get a mortgage, but those who do qualify are sound borrowers — much less likely to default.
Portland is the greatest city in the world, so of course it's growing. Okay, this last point is just my opinion rather than a strict fact, but it is an opinion shared by many! This is a great city, and even though prices are rising fast, the cost of living remains much lower than in many other big cities.
As prices continue to rise, the growth momentum will probably slow somewhat, but this is not a market that's headed for a nosedive. We can expect it to level off at some point — no one can predict when, but based on current trends, that still seems a long time from now. But unlike the wild real estate market of 2005, 2006, the money is there to back up the purchases this time around. We're not going to see a big wave of foreclosures and short sales. At worst, there may be a plateau coming, where prices don't rise and the homes for sale stay on the market a little longer.
If you're waiting to buy because you're expecting prices to drop, you'll likely be waiting a long time. This is no bubble.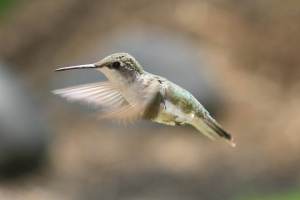 Outside the office this morning, I saw a whole bunch of robins, and also a hummingbird. Is it spring already? One can dream, right? The weather may not be ready to cooperate, but spring does come quickly to real estate. We saw the typical yearly slowdown with the holidays this year, but two weeks into 2015, it already feels like that season is long behind us.
I held an open house this weekend and saw more traffic than I'd had at any open house all throughout the fall. Just about everyone said the same thing — that they were "just starting to look; hoping to buy around March." March is just six weeks away. We're already seeing a steady flow of new listings, and lots more interested buyers out there shopping. It's getting exciting now!
Are you ready to start looking, or thinking about listing your home? Give me a call and we can get moving quickly to be a part of the real estate spring that's just getting started.