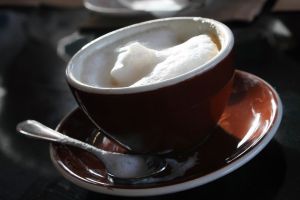 ​Summer put up a fight well into October this year, and I certainly took advantage of outdoor opportunities like hiking in the Columbia River Gorge and food cart lunch dates downtown, but then winter hit Portland like a freight train. It's been a little rainy and bitterly cold for the last few weeks, and the great outdoors just isn't very appealing right now.
I like to combat cabin fever by taking classes in the winter months. Living in a city like Portland means there's a plethora of ways for me to expand my horizons (and skill sets). This year I've been taking sewing classes at PCC. I went from completely useless at sewing to kind of able to actually do it in just a few weeks of classes, and I got some rad new clothes out of it, too. I've also really enjoyed classes at Let It Bead, where I learned how to make all kinds of funky jewelry. I also take real estate classes that teach me how to be a better agent for you, but these aren't nearly as fun as clothing and jewelry.
Portland is also known as one of the coffee capitals of the universe, and you can find cozy cafes with great warm beverages on every street in the city. If you're one of those crazy nuts like me who never acquired the taste for coffee, I suggest the Bourbon Furnace cocktail available at most McMenamins pubs. (You're welcome.)
How do you combat cabin fever?
Posted on November 22, 2014 at 5:21 am
Margaret Myers
Posted in
Uncategorized
I would love to take you shopping for your next home — I can't wait, in fact, and I bet you're excited, too. But before you even start browsing the listings, you need to get pre-approved for your home loan. You've probably heard this from a thousand different sources, and it may seem like I'm beating a dead horse, but I cannot stress this enough — shopping for a home before you get your mortgage approved is a fast path to heartbreak. I know from experience.
​When I was shopping for my home two years ago, before I was a Realtor, I heard the same advice: GET PRE-APPROVED! But I ignored it like a chump, because I'd already bought homes before. My credit was established and I knew what I could afford. Can we just look at houses, please? Turns out, the market is a lot different than it was the last time I got a mortgage. I thought I was any bank's dream borrower — the banks thought otherwise. In fact, they wouldn't even consider me. Since the financial crisis, the banks have adopted some very tight requirements for loans — and I didn't meet them. I learned this only after I'd made an offer on a home to which I'd become quite attached. The seller had other offers and wasn't interested in waiting for me to come up with the money some other way. I didn't get the house. This is a truly heartbreaking experience, and I want to protect my clients from it.
Even if you think you know what you can afford, verify it with your lending institution. The rules have probably changed since the last time you did this. The market is competitive right now. If you are going up against other buyers, you need to prove to the seller that you are able to close the deal.
Call or email me if you have questions about getting pre-approved. I can refer you to a mortgage broker who will help you get all your ducks in a row before you start shopping. Then when you find the home you want, we can write an offer and move forward swiftly.